Activities
Walking/Hill Walking - The Kerry Way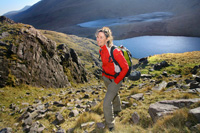 The Kerry Way is the region's best know and longest walk. The Kerry Way provides a circuit of the Iveragh Peninsula including Killarney, Glenbeigh, Caherciveen, Waterville, Caherdaniel, Sneem, Kenmare and back to Killarney. The route is 215 km long and is divided into 9 stages. As well as sign posted trails, there is also an extensive programme of guided walks both through specialist guides and activity centres in the region. For more information on walking holidays in Kerry see kerryway.com
Cycling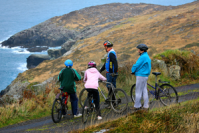 The Skellig Region is one of Ireland's favourite cycling areas. A mystical journey awaits you as you breeze through unspoilt countryside, by passing ancient ruins and castles, quaint farmhouses and colourful villages. Discover the magic for yourself of cycling along quiet country roads, breathing in fresh country air, with the most spectacular landscape as a backdrop. The region's roads are amongst the quietest and most scenic in Ireland. There are a range of established and signposted cycling routes available. These routes have been mapped and signposted and avoid the main roads as much as possible. The region's best known and longest cycle route is the Ring Of Kerry Cycle Route. The entire journey is 216km with 143km of the route on minor roads. Bicycles are available to rent in Waterville and Cahirciveen.
Golf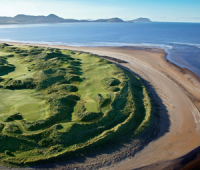 For many visitors a key attraction in the Skellig Region is golf. Ranked among the Top 25 International Courses by Golf Digest, The Waterville Links Golf Course is a truly magical Links. Many of the world's top players have been so taken with the region's links courses that they come back year after year. Tiger Woods and Mark O'Meara traditionally made a golfing pilgrimage to Waterville in the run up to the British Open each year. See www.watervillegolfclub.ie
Another option for Golfers in Waterville is the Skellig Bay Golf Club www.skelligbay.com Dooks Golf Club www.dooks.com located 27 miles from Waterville is another option for the avid golfer. It offers the visitor a unique links experience in a majestic setting and is perfectly suited to the golfer seeking a tranquil environment in which to enjoy a superb golf course. Killarney's three lakeshore championship courses are just 48 miles drive from the house and offer the golf enthusiast even further choice.
Fishing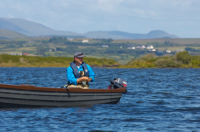 The region is a game anglers paradise and the house overlooks and is located just 500 yards from the world famous Lough Currane which offers some of the finest Sea Trout and Salmon fishing in Ireland.
The sea surrounding the Iveragh Peninsula is rich fishing ground. Offshore established marks such as the Skellig Rocks and Puffin Rock are good sites for pollack, coalfish, cod, conger, skate and rays.
Further West predators such as shark put in their annual appearance. Many of the region's beaches offer excellent shore fishing opportunities. Species include pollack, mackrel and flounder.
Both lake and Sea Angling boats can be rented and bait and all special requirements are catered for. In fact we have our own lake boat for rent with the house so please call for more detail.
For more information on Fishing Holidays see loughcurrane.com.
Hunting
Ireland is traditionally a sporting country with a particularly plentiful stock of Migratory Game Wildfowl. Visitors to the area have access to some of the best shooting in the country - Waterville in particular being well supplied with snipe and woodcock, and often even duck. The Shooting Season begins 1st of November through to 31st of January. Shooting parties, dogs, gun licenses etc. can all be organised.
Horse Riding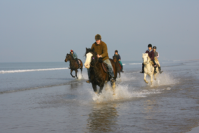 Horse Riding and Pony Trekking are hugely popular in the area. There are a number of approved riding centres which offer a unique riding experience for all ages and levels of experience.
Activity Centres & Water Sports
There are a number of specialist Activity Centres in the area and activities include mountain climbing, rock climbing, canoeing, kayaking, hill walking, abseiling, scuba diving, survival courses etc. See activityireland.com for more information
Arts & Craft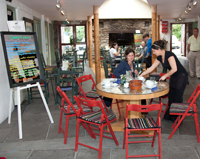 As the area is so beautiful it attracts both Irish and International Artists. Siopa Cill Rialaig, a unique thatched building, which comprises of a gallery, café and a retail area, is located in the village of Dunegan in Ballingskelligs. Works by Irish and International artists in painting, sculpture, wood, metal, ceramics, glass, silver and textiles are exhibited and are for sale. Works sold in the Gallery contribute towards the restoration and rebuilding of the pre-famine village "Cill Rialaig" which had previously been abandoned but is now the location of an International Writers and Artists Retreat. The centre also hosts a series of Art & Craft Workshops throughout the year for children and adults.
Waterville itself boats the Tech Amergin Art and Educational Centre. It hosts a wide range of Art Courses and Workshops for all ages as well as Exhibitions, Plays and Concerts. For more information see www.techamergin.com